New Green Belt dwelling
A replacement dwelling which enhances the landscape and connection with the setting
The host site has so much to offer yet the existing bungalow is tucked against the access track among pine trees.
The replacement dwelling seeks to optimise connectivity to its wonderful landscape setting whilst enhancing the experience from the access track which is also a public footpath.
The new building is arranged to provide a secure private courtyard akin arriving at a walled garden. Upon entry through the wall, the landscape is revealed as you move through the house to the principle living spaces.
Central to the plan is an internal south facing indoor garden where the client's passion for plants can be expressed and enjoyed.
The building is tightly restricted in volume due to the Green Belt designation and how these are applied by Sevenoaks D.C. who are currently considering the planning application.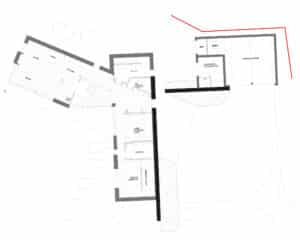 Other projects you might like