Passive Low Energy New Build
Community Centre
The new centre replaces a small church hall which stood on the corner plot but lacking presence and providing little functional value of surrounding spaces. This new building will continue the legacy of local people who gave the land and founded the former hall. The new centre will incorporate the local Anglican church, increasing the halls capacity for mother and baby groups, children's activities, music, dance, drama, keep fit, support groups, quizzes, shows and other activities.

St. Faith's Centre integrates harmoniously into the street scene, providing a strong sense of rejuvenation to local residents.

Despite the sloping topography, level access throughout the ground floor has been provided. The building achieved a high "A" rated EPC thanks to its 300mm insulated and highly airtight triple glazed building envelope with heat recovery ventilation. The centre is heated using an innovative long wave infrared heating system which is skimmed into the building fabric without need for any underfloor heating or radiators and for a tiny fraction of the running cost of any convention heating system.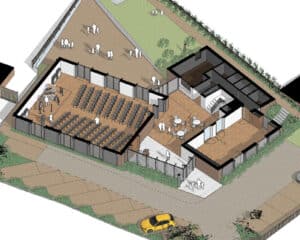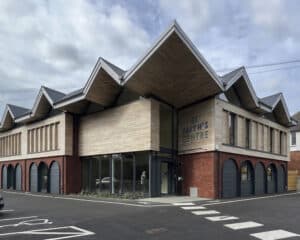 Sense of Place
Fitting in with the form & layout of its surroundings
The existing street & rear garden lines have been retained which has allowed the building to flow around the corner, repeating the rhythm of gables with an accent on the corner itself which marks the entrance.