New Build
An inspirational, sustainable, energy efficient family home
Located 70m from the edge of the country, adjacent to arguably the most iconic defining characteristic of the British Isles, 'The White Cliffs of Dover', this stunning new Para 55 dwelling was allowed at Appeal in July 2017.

The site is within the Kent Downs AONB, Heritage Coast and is immediately adjacent to the Saxon Shore Way SSSI.

The principal strategy was to stitch together the site and the passive house into the calcareous grasslands and chalky cliff tops. The curved building provides south facing amenity space and allows seascape views out to both the east and west. Along the inside of the internal curve facade, an integrated 'Solar Wall' will feed warm air into the MVHR system, thus reducing the heating requirements of the house.

The house is nearing completion and we look forward to sharing photographs in due course. You can always take a walk to Kingsdown along The Saxon Shore Way & see it for yourself!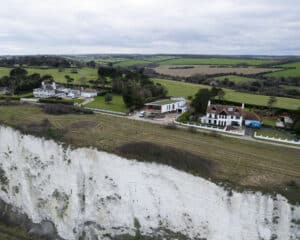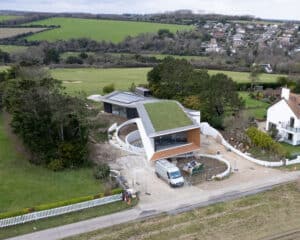 Para 80
Other projects you might like